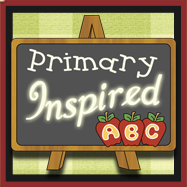 Brenda @ Primary Inspired is having a blog hop with teachers submitting websites for literacy or word work activities.  There aren't that many listed yet, but hopefully it will grow.  This would be a great resource!  You can just post 1.  I chose the Read Aloud Stories @ RIF (Reading is Fundamental).  The link takes you to a list of stories and songs.  These are animated and the word is highlighted as it is read (I love that feature!).  I'm including 2 links for this.  1 takes you to the RIF Reading Planet Read Aloud Stories site.  The other takes you to the index of stories.  It's not a fancy list, but it has more books than are featured on their site.  You can go directly to each story and use each individual link for your parent website/blog or for your student computers.  These are great for listen to reading time. 
RIF Reading Planet Read Aloud Stories
Index of RIF Read Aloud Stories
Here are a few more sites that I didn't see mentioned in the blog hop.  Feel free to add these at Primary Inspired.  Each person can only add 1.
Word Work Activities at Read Write Think:
Word Maker
What's in the Bag?
Picture Match
Clifford Phonics Activity from Scholastic:
Sound Match with Clifford
** BTW, check out my last post about a freebie for the 1st 2 people to leave a comment.  The last time I checked there was only 1 comment.
~Melissa